How it works
Memverse.com keeps track of all your Bible memory verses. It is entirely online so there is no software to download, there are no flash cards to carry around, and, best of all, you will be gradually building up a library of biblical knowledge. It's also free, and always will be.
When you first login, you will be given the opportunity to add memory verses. We recommend starting with about 6 to 10 memory verses and then gradually adding memory verses over time as you memorize the ones in your repertoire.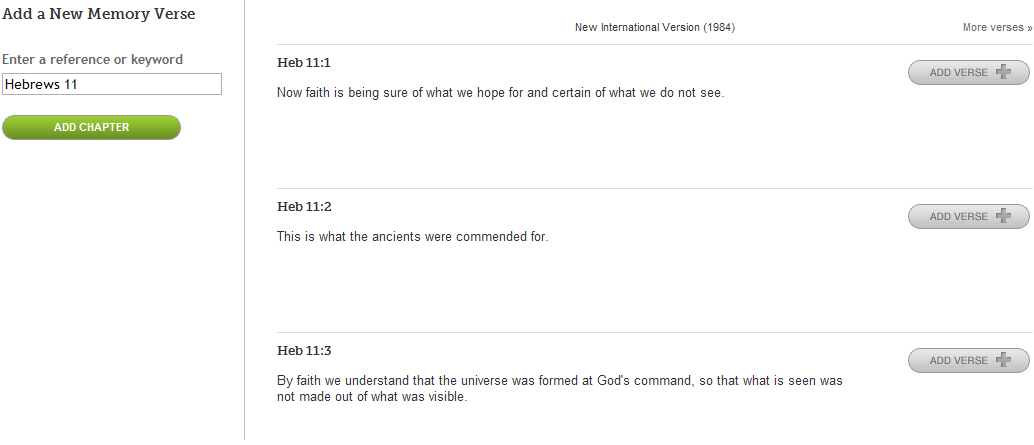 There are two ways to add verses. As the screenshot above shows, you can either type in the verse yourself (in the translation of your choice) or if someone has already added a verse you can simply click 'Add Verse' and it will be added to your list of memory verses.
Memorization
Once you have added verses, you can begin memorizing. Some people login every day, others once a week. It's up to you. When you login, Memverse will present you with the verses that you are due to review. The timing between reviews is calculated by the software so you don't need to keep track of this yourself.
The main memorization page is where you will spend the majority of your time. The software compares the verse that you're entering with the correct verse. You can also see the verse by clicking "Show Verse" if you're completely stuck.

Once you've entered the verse, you grade yourself on how well you knew it. This will determine how soon you will be given the opportunity to review the verse. If you remembered the verse (without looking at the verse!) you should select options 3 through 5. If you struggled to recall the verse but did eventually get it correct, select option 3. If you remembered the verse instantaneously and without hesitation, select option 5.
If you could not recall the verse or could not remember the text associated with the reference, select option 1 or 2. This will allow you to practise the verse again the next time you login.
Tracking your Progress
Finally, the software will keep track of all your memory verses and will show you how you are progressing. It will recommend that you add new verses at the appropriate time. As you become more familiar with a given Bible verse, it will present it to you less frequently.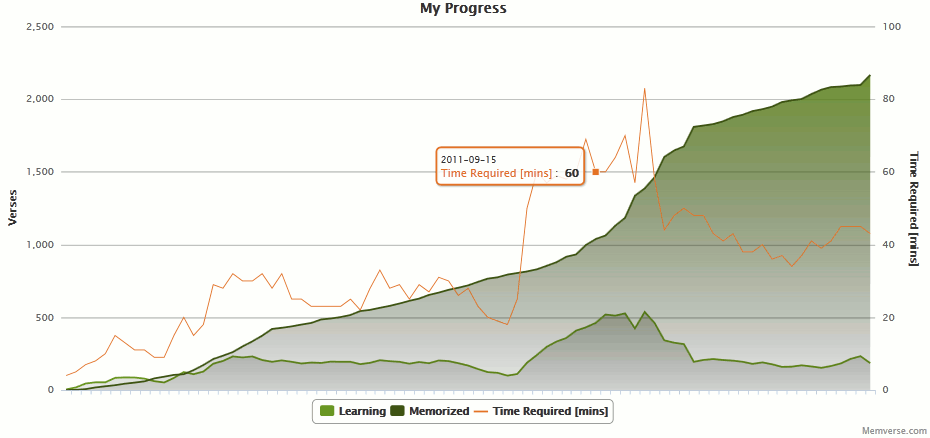 Memory verses that span multiple verses are automatically grouped into a single memory verse. That way, you can memorize the whole of Romans!